Residential Lighting Services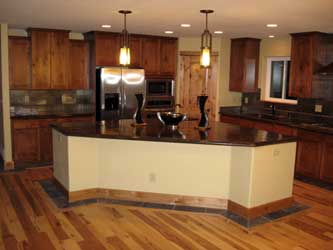 The right lighting will improve your enjoyment of your property whether it be your home or business. Recessed lighting presents a warm environment in an otherwise poorly lit room. Halogen track lighting can facilitate the showcasing of sculptures, wall-hung art and other treasures you want to bring attention to. There are infinite lighting options for your home, office, or building. Outside, a properly lighted driveway plus beautifully illuminated landscaping and trees bring your property features into immediate focus. Simple additions like lighting add more value and enjoyment to your property.
Lighting can also protect your property through the use of flood lighting and fill in dark hiding spots with infrared motion detector lights that only turn on when a person is near. Dusk to dawn lighting using photovoltaic cells can provide a carefree way to light areas throughout the evening hours and automatically shut off at daybreak.
The possibilities are endless with interior, exterior, security and landscape lighting options. Whatever choice you make, Delaney's Electric, Inc. can assist with your unique selection and installation requirements. Give us a call today for all your lighting.
Delaney's Electric, Inc provides electrical services for Contractors, Residential Property Management, Realtors, and Insurance Agents. We stand behind the quality of our service with a solid guarantee. Please call (970) 834-1715 or Contact Us for an estimate.